[ Section Amanita page. ] [ Amanita Studies home. ] [ Keys & Checklist/Picturebooks ]
[ Australia/New Zealand List ]

Amanita subvaginata (Cleland & Cheel) E.-J. Gilbert
"Australian False Vaginata"
non Amanita subvaginata sensu A. E. Wood (1997)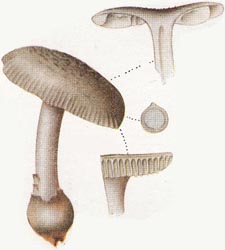 Technical description (t.b.d.)
BRIEF DESCRIPTION: The cap of A. subvaginata is up to 32 mm wide, convex, ashy-gray, with a striate margin. The volva forms a powdery covering.
The gills just reachg the stem and are close, white, and have a finely roughened edge.
The stem is up to 39 mm long, stout, with a powdery covering, and solid (at first stuffed then hollow, according to Gilbert 1941), with a slightly bulbous base. The volva is present on the edge of the bulb, marginate and ashy-gray.
The spores measure 7.5 - 9.0 µm in diameter and are globose and inamyloid. Gilbert (1940) presents seventeen drawings of spores, six are or may be correctly oriented for measurement and yield these dimensions: (8.7-) 9.0 - 9.7 × (7.8-) 8.2 - 8.8 µm. They are subglobose to broadly ellipsoid or, occasionally, globose. Note that, as is usually the case, the report of Amanita spores as truly and consistently globose is not correct.
According to Reid (1980), the present species is known only in the vicinity of Sydney, New South Wales (Australia).
Associated vegetation is not reported in the literature available to us. This species has persistently been misclassified as belonging in section Vaginatae, possibly because of the name the author's chose for it. The persistent, powdery volva which remains attached to the cap at maturity and the volva remaining on the margin of the bulb strongly suggest a comparison to Amanita farinosa Schwein. and similar taxa. After the original publication, authors seem to convert "marginate" to "limbate or saccate" without providing any reason for the change. The presence of a bulb (a stem that is not totally elongating) is indicative of proper assignment of Amanita subvaginata to section Amanita. -- R. E. Tulloss and L. Possiel
Illustration (from protologue) courtesy of the Library of the Arnold Arboretum, Harvard University, Cambridge, MA, USA.
[ Section Amanita page. ] [ Amanita Studies home. ] [ Keys & Checklist/Picturebooks ]
[ Australia/New Zealand List ]
---
Last changed 4 February 2009.
This page is maintained by R. E. Tulloss.
Copyright 2006, 2007, 2009 by Rodham E. Tulloss.