**new**
see as sporograph
**new** map of collections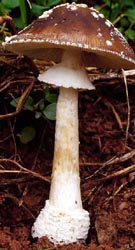 Amanita subglobosa Zhu L. Yang

Stirps is an informal rank without authorship and without type.
Amanita stirps Subglobosa comprises those species of Amanita series Amanita having unversal veil a universal veil that combines a more or less narrow and somewhat ragged limbate volva with closely placed rings of limbus internus material encircling approximately the upper half of the stipe's basal bulb, and dominantly broadly ellipsoid to ellipsoid spores.

Species have some macroscopic resemblence to the clampless species of the provisional subsection Pantherinae.