**new**
see as sporograph
**new** map of collections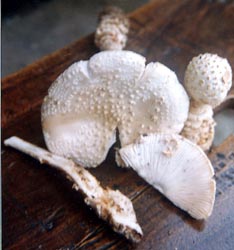 Amanita concentrica T. Oda, C. Tanaka & Tsuda

Stirps is an informal rank without authorship and without type.
Amanita stirps Concentrica comprises those species. of A. series Amanita bearing (1) pyramidal warts on the pileus, (2) rows of recurved scales (each tipped with universal veil material) encircling the lower stipe and the upper part of a radicating basal bulb, and (3) suglobose to broadly ellipsoid spores. It includes a single species.