**new**
see as sporograph
**new** map of collections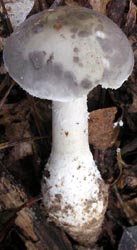 Amanita cinereoconia G. F. Atk.

Stirps is an informal rank without authorship and without type.
Per Bas (1969), Amanita stirps Cinereoconia comprises all and only those species satisfying the following conditions: (1) clamps are absent from the basidia; (2) the spore length range is 7.5 - 12.5 μm; (3) the universal veil is a shade of gray or brown; (4) microscopically, the universal veil consists of abundant small to medium-sized inflated cells and scarce to abundant filamentous hyphase, with these elements organized vertically or disordered; (5) macroscopically, this results in the universal veil on the pileus being pulverulent to pulverulent-floccose and forming a continuous layer or forming patches or small warts.

Bas notes that this group includes "the small to medium [clampless] species of subsection Solitariae with more or less pulverulent, greyish or brownish volva and usually ellipsoid to cylindrical spores."