**new**
see as sporograph
**new** map of collections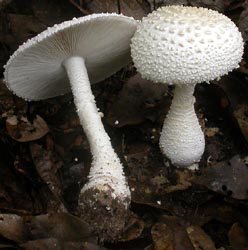 Amanita virgineoides Bas

Stirps is an informal rank without authorship and without type.
Among the species of subsect. Solitariae having clamps at bases of basidia, stirps Virgineoides includes all and only those taxa with

(1) spores broadly ellipsoid to ellipsoid to elongate (rarely cylindric) and
(2) the universal veil on the pileus forming distinct conical warts and including
  (a) rather abundant filamentous hyphae and
  (b) at least in the upper part, irregularly disposed, small to medium-sized inflated cells in short to long rows.

Bas (1969) notes that, despite the apparently irregular disposition of the elements in the universal veil on the pileus, volval remnants take on the form of conical warts in A. virgineoides.   Bas and Hatanaka (1984) note that while the tissue in question is generally disordered in A. miculifera, the most elongate inflated cells and some chains of inflated cells were anticlinally oriented.   In A. gracilior the elements in the bases of warts are anticlinally arranged (Bas and Honrubia 1982).